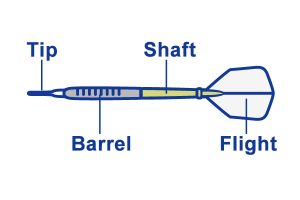 There are four parts that make up a dart. The first part is the tip or point. You can get steel tips, which are made of metal, or soft tips, which are made of plastic. They come in two sizes, either 32 mm (1 1/4 in) or 41 mm (1 5/8 in). Steel tips are made to use on bristle dartboard. Soft Tips are made to use on an electric dartboard.
The second part is the barrel. Barrels are usually made of brass, silver-nickel, or tungsten alloy and come in different weights. Most serious dart players use tungsten alloy barrels. The most common weight used is 18 gram. They come in 3 shapes, cylindrical shaped, ton shaped, or torpedo shaped. A barrel knurl is the pattern or grip of the barrel.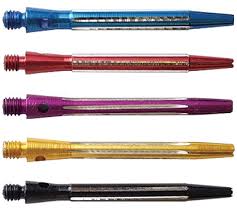 The third part is the shaft, which comes in a variety of lengths and some are made to cut to length. They are made of plastic, nylon polymers, or metal such as aluminum or titanium and can be rigid or flexible. Longer shafts provide greater stability and allow a reduction in the flight size.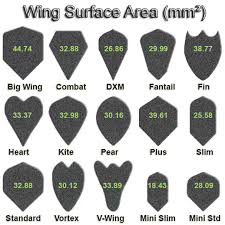 The fourth part is the flight, which come in a variety of shapes and sizes. The flight helps to stabilize the dart by producing drag. It keeps the back of the dart from overtaking the front of the dart. Flights are usually made of  plastic, nylon, or foil. The three most common shapes are standard, the kite and the pear.